JUNIPER GLASS REINFORCED PLASTIC DOORS
Our automated information request service is temporarily unavailable. Please contact us by fax or phone while we work to improve this website. Sorry for the inconvenience.
DOOR, GRP
WT AND QA
PART NO. JEGRP-DI AND JEGRP-DQ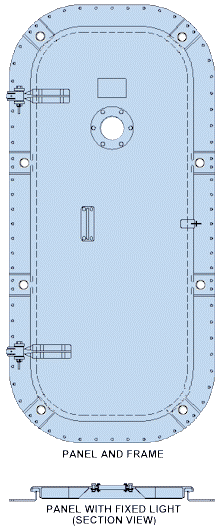 GENERAL NOTES:
LAMINATE: WEBS ARE MADE BY WRAPPING FOAM CORE PIECES WITH LAMINATE TO ONE-HALF THE WEB THICKNESS AND THEN ASSEMBLING THEM TO FORM THE DOOR. SKINS ARE ADDED OVER THE ASSEMBLED CORE PIECES TO THE REQUIRED THICKNESS AND SHALL BE CONTINUOUS BETWEEN THE EXTREME EDGES OF THE DOOR. THE GASKET POCKET SHALL BE ADDED AFTER THE SKINS ARE APPLIED. THE DOOR SHALL BE LAMINATED IN A CONTINUOUS OPERATION TO PROVIDE FOR A PRIMARY BOND BETWEEN ALL PLIES IN ALL AREAS OF THE LAMINATE.
GLASS REINFORCED PLASTIC (GRP) MATERIAL OF DOOR SHALL MEET THE REQUIREMENTS OF MIL-P-17549 GRADE 1. IN ADDITION, LAMINATE SHALL BE PIGMENTED TO A HAZE GRAY COLOR, APPROXIMATING COLOR NO. 36270 OF FED-STD-595 AND THE FLAMMABILITY MUST EQUAL REQUIREMENTS FOR GRADE 1 OF MIL-R-21607.
ALL GRP MATERIAL THAT IS DRILLED, CUT, SANDED, ETC., LEAVING SURFACES EXPOSED SHALL BE SEALED WITH THE SAME RESIN AS THE EXPOSED MATERIAL.
FIXED LIGHT OPTIONAL.
DOOR MAY HAVE QUICK ACTING OR INDIVIDUALLY DOGGED ARRANGEMENT.
ALTERNATE COMPOSITES SUCH AS CARBON GRAPHITE MAY REPLACE GRP AS THE NAVY CONTINUES TO APPROVE NEW MATERIALS AND TECHNOLOGIES.
DOGGING MECHANISMS AVAILABLE FOR GRP DOORS ARE THE SAME AS THOSE ON STEEL QUICK ACTING DOORS AND STEEL INDIVIDUALLY DOGGED DOORS. FOR MINESWEEPER AND OTHER NON-MAGNETIC APPLICATIONS, SPECIFY STAINLESS STEEL DOGGING MECHANISMS.
HINGE BLADE ON GRP DOORS IS UNIQUE DESIGN. A MORE DETAILED DRAWING APPEARS ON OUR HINGE PAGE.
JUNIPER DOORS
GLASS REINFORCED PLASTIC DOORS
REQUEST FOR QUOTATION
USE THE FORM BELOW OR, FOR A GENERIC RFQ FORM,
CLICK HERE
JUNIPER INDUSTRIES, INC.
72-15 METROPOLITAN AVENUE
POST OFFICE BOX 148
MIDDLE VILLAGE, NY 11379
PHONE (718) 326 2546
FAX (718) 326 3786
EMAIL
Copyright © 2016 Juniper Industries Inc.