JUNIPER WATERTIGHT DOORS
Our automated information request service is temporarily unavailable. Please contact us by fax or phone while we work to improve this website. Sorry for the inconvenience.
INDIVIDUAL DOG ASSEMBLIES
FOR JUNIPER INDIVIDUALLY DOGGED WATERTIGHT DOORS SERIES DI-261
I.A.W. NAVSEA DWGS. 803-6397261 & 803-6397262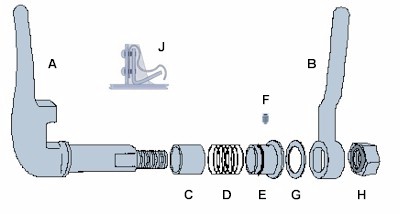 GENERAL NOTES:
DOG ASSEMBLIES AND COMPONENTS ARE ALSO AVAILABLE FOR 805 SERIES DOORS
805 SERIES USES "OILITE" BRONZE BEARINGS
805 SERIES REQUIRES STRING AND STICK PACKING AND PLUNGERS
PACKING, PLUNGERS, ETC., ARE ON THE OPTIONAL AND MISCELLANEOUS PARTS PAGE
PLATED JAM NUTS, STAINLESS LOCK NUTS, STEEL DOGS AND STEEL DOG HANDLES AVAILABLE
PLEASE SPECIFY 805 ITEMS OR ALTERNATE MATERIALS IN SPECIAL INSTRUCTIONS BELOW
SHORT DOG KIT IS USED WHEN DOG AND HINGE ARE IN CLOSE PROXIMITY TO AVOID A PINCH POINT

SHORT DOG KIT IS USED ON 26 X 45 10-DOG DOORS BENEATH TOP HINGE
SHORT DOG KITS ARE USED ON 26 X 45 12 DOG DOORS BENEATH TOP HINGE AND BOTTOM HINGE
JUNIPER DOORS
INDIVIDUALLY DOGGED DOORS
DOG ASSEMBLIES AND DOG COMPONENTS
TO GET A QUICK PRICE QUOTATION
USE THE FORM BELOW OR
CLICK HERE
FOR A GENERIC FORM
JUNIPER INDUSTRIES, INC.
72-15 METROPOLITAN AVENUE
POST OFFICE BOX 148
MIDDLE VILLAGE, NY 11379PHONE (718) 326 2546FAX (718) 326 3786EMAIL
Copyright © 2016 Juniper Industries Inc.