JUNIPER WATERTIGHT DOORS

<


Our automated information request service is temporarily unavailable. Please contact us by fax or phone while we work to improve this website. Sorry for the inconvenience.




COMPLETE DOG LEVER ASSEMBLIES
AND THEIR COMPONENTS INCLUDING
SPINDLES AND TOGGLE LINKS
FOR JUNIPER QUICK ACTING DOORS SERIES DQ-268
I.A.W. NAVSEA DWGS. 803-6397268 & 803-6397269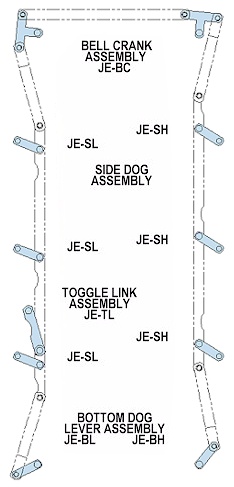 LEVER ASSEMBLY AND PARTS
GENERAL INFORMATION:
STANDARD LEVER ASSEMBLIES INCLUDE STEEL LEVERS WITH STAINLESS STEEL SPINDLES, STUDS AND COTTER PINS. BEARINGS ARE SELF-LUBRICATING STAINLESS STEEL. WASHERS AND CON ROD COLLARS ARE BRASS. MODIFIED MATERIALS SUCH AS STAINLESS STEEL LEVERS OR "OILITE" BEARINGS ARE AVAILABLE. STAINLESS STEEL LEVERS ARE REQUIRED FOR STAINLESS STEEL FRAME AND PANEL DOORS. SOME ALUMINUM AND GRP DOORS REQUIRING LOW MAGNETIC PERMEABILITY (I.E., FOR USE ON MINE HUNTERS) MAY REQUIRE STAINLESS STEEL. DOG SPINDLES ARE WELDED TO LEVERS TO ENSURE CORRECT ORIENTATION UNLESS OTHERWISE SPECIFIED.
WHEN ORDERING LEVER AND SPINDLE ASSEMBLIES IT IS CRITICAL TO KNOW ON WHICH DOORS THEY ARE TO BE USED. LEVER ASSEMBLIES VARY WITH DOOR SIZE AND DOGGING ARRANGEMENT AS WELL AS LEFT AND RIGHT SWING. SOME SMALLER DOORS REQUIRE ONE LONG SPINDLED SIDE DOG LEVER AND AN OFFSET TOGGLE LINK. THE SPINDLE AND BOTTOM LEVER ARE NOT ORIENTED IDENTICALLY IN ALL 8 DOG AND 10 DOG DOORS INCLUDING 26X66 DOORS DESPITE A COMMONLY STATED CLAIM. THE LARGEST DOORS, 36X66, USE BOTTOM DOG LEVERS IN LIEU OF BELL CRANK LEVERS. THE SIDE DOG LEVERS OF SMALL 6 DOG DOORS ARE SIMILAR TO BOTTOM DOG LEVERS HAVING STUDS IN PLACE OF BEARINGS.
JUNIPER DOORS
QUICK ACTING DOORS
LEVER ASSEMBLIES AND COMPONENTS
TO GET A QUICK PRICE QUOTATION
USE THE FORM BELOW OR
CLICK HERE
FOR A GENERIC FORM
JUNIPER INDUSTRIES, INC.
72-15 METROPOLITAN AVENUE
POST OFFICE BOX 148
MIDDLE VILLAGE, NY 11379
PHONE (718) 326 2546
FAX (718) 326 3786
EMAIL
Copyright © 2016 Juniper Industries Inc.