JUNIPER SCUTTLES
Our automated information request service is temporarily unavailable. Please contact us by fax or phone while we work to improve this website. Sorry for the inconvenience.
JUNIPER HINGE AND BRACE LINK PARTS
FOR FLUSH SCUTTLES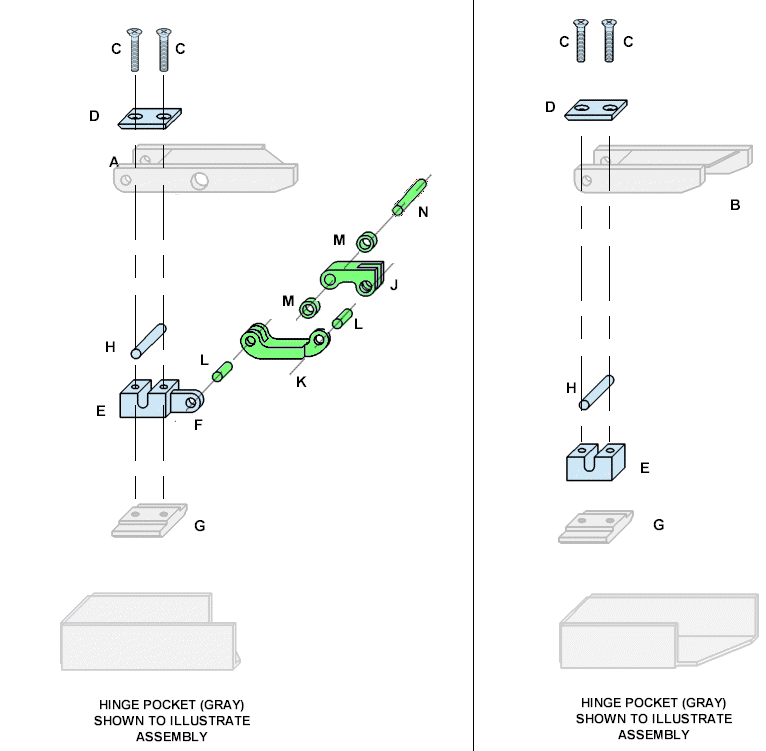 LEFT SIDE HINGE WITH BRACE LINK (LEFT)
AND RIGHT SIDE HINGE WITHOUT BRACE LINK (RIGHT)
FOR TYPICAL FLUSH SCUTTLE

GENERAL NOTES:
BRACE LINK WEAR PARTS SHOWN IN GREEN
HINGE WEAR PARTS SHOWN IN BLUE
YOU MAY ORDER COMMONLY REQUESTED KITS OF PARTS UNDER A SINGLE PART NUMBER. TO REPLACE ALL WEAR PARTS USED IN SCUTTLE HINGES, ORDER ONE EACH LEFT HINGE WEAR PARTS KIT, RIGHT HINGE WEAR PARTS KIT, AND BRACE LINK KIT.
HINGE AND BRACE LINK PARTS
FOR QA FLUSH SCUTTLES
COMPLETE HINGES INCLUDE ALL PARTS ILLUSTRATED
WEAR PARTS IN BLUE OR GREEN ARE AVAILABLE INDIVIDUALLY
OTHER PARTS IN GRAY ARE NOT WEAR PARTS BUT ARE AVAILABLE
BY REQUEST IN THE SPECIAL INSTRUCTIONS SECTION OF THIS PAGE
CLICK HERE
FOR A GENERIC ORDER FORM
JUNIPER INDUSTRIES, INC.
72-15 METROPOLITAN AVENUE
POST OFFICE BOX 148
MIDDLE VILLAGE, NY 11379
PHONE (718) 326 2546
FAX (718) 326 3786
EMAIL
Copyright © 2016 Juniper Industries Inc.