JUNIPER SCUTTLES
Our automated information request service is temporarily unavailable. Please contact us by fax or phone while we work to improve this website. Sorry for the inconvenience.
SCUTTLE, RAISED, WT
INDIVIDUALLY DOGGED
JE7321-SR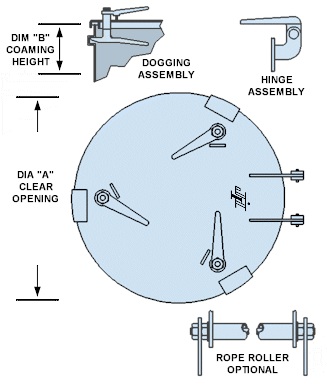 GENERAL NOTES:
DIA "A" TO BE SPECIFIED
COAMING HEIGHT: 6" STANDARD
MATERIAL: STEEL
HARDWARE: VARIOUS
ROPE ROLLER: OPTIONAL
STANDARD FINISH: INORGANIC ZINC AND FORMULA 150 PRIMER
FLAME SPRAYED ALUMINUM COATING
I.A.W. DOD-STD-2138
AVAILABLE FOR EXTERIOR INSTALLATION
ALTERNATE MATERIALS AVAILABLE
JUNIPER SCUTTLES
SCUTTLE, RAISED, WATERTIGHT, INDIVIDUALLY DOGGED
TO GET A QUICK PRICE QUOTATION
USE THE FORM BELOW OR
CLICK HERE
FOR A GENERIC FORM
JUNIPER INDUSTRIES, INC.
72-15 METROPOLITAN AVENUE
POST OFFICE BOX 148
MIDDLE VILLAGE, NY 11379PHONE (718) 326 2546FAX (718) 326 3786EMAIL
Copyright © 2016 Juniper Industries Inc.