JUNIPER WATERTIGHT DOORS
JUNIPER HINGE UPGRADE KIT
FOR HIGH HINGE DOORS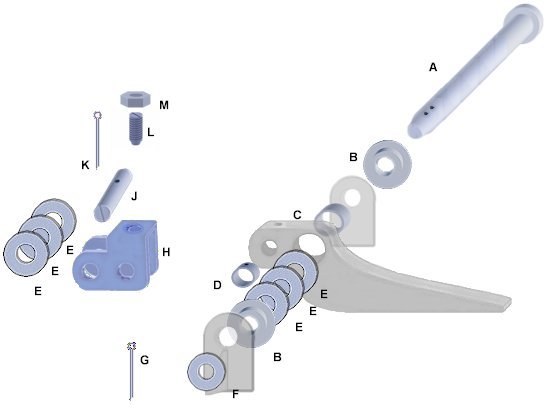 COMPLETE HIGH HINGE UPGRADE KIT
TYPICAL HIGH HINGE FOR AIRTIGHT DOOR SHOWN
SIMILAR TO MACHALT 167-31011 ECP MA-538
HINGE BLADE AND PAD SHOWN TO ILLUSTRATE COMPLETE ASSEMBLY

JUNIPER JE538 SERIES HINGE UPGRADE KITS AND THEIR COMPONENTS MEET NAVSEA MACHALT SPECIFICATIONS. THE KITS ENABLE HINGES BASED ON OLDER BEARING TECHNOLOGY TO PROVIDE THE SAME LONG LIFE CHARACTERISTICS AS NEW HINGES SPECIFIED IN THE MOST RECENT NAVSEA WATERTIGHT DOOR DRAWINGS. HINGES BASED ON THIS TECHNOLOGY ARE DESIGNED FOR A LIFETIME IN EXCESS OF 1,000,000 OPERATING CYCLES. JUNIPER KITS PERMIT A COMPLETE DOOR HINGE RETROFIT TO BE COMPLETED WITH NO HOT WORK.
GENERAL NOTES:
YOKE INCLUDES FACTORY INSTALLED BUSHINGS
YOKE BUSHINGS MAY EXHIBIT DIMINISHED LOAD BEARING PERFORMANCE OR REDUCED LIFE IF REPLACED IN THE FIELD BY UNAUTHORIZED PROCEDURES
YOKE INSTALLED AS SHOWN ON ALL DOORS
KIT FOR WATERTIGHT DOOR DOES NOT INCLUDE SETSCREW AND HEX NUT
YOKE, HINGE PIN, YOKE PIN AND COTTER PINS ARE TYPE 316 STAINLESS STEEL
KITS INCLUDE EXTRA WASHERS THAT MAY BE USED TO IMPROVE FIT OF HINGE PIN AND ITS COTTER PIN
JUNIPER HINGE UPGRADE KITS
JE538-MK-H-AT AND JE538-MK-H-WT
AND THEIR COMPONENTS
FOR QA AND ID HIGH HINGE DOORS
TO GET A QUICK PRICE QUOTATION
USE THE FORM BELOW OR
CLICK HERE
FOR A GENERIC FORM
JUNIPER INDUSTRIES, INC.
72-15 METROPOLITAN AVENUE
POST OFFICE BOX 148
MIDDLE VILLAGE, NY 11379PHONE (718) 326 2546FAX (718) 326 3786EMAIL
Copyright © 2016 Juniper Industries Inc.