JUNIPER WEATHERTIGHT DOORS
Our automated information request service is temporarily unavailable. Please contact us by fax or phone while we work to improve this website. Sorry for the inconvenience.
DOOR, WEATHERTIGHT
PART NO. JE1602-89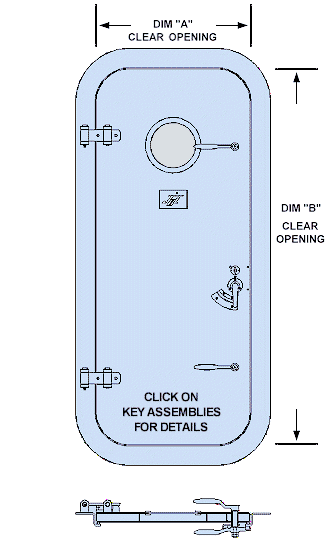 GENERAL NOTES:
STANDARD SIZE IS 26 X 66. USE SPECIAL INSTRUCTIONS BELOW TO REQUEST QUOTES FOR DOORS OF OTHER SIZES.
STANDARD MATERIAL IS STEEL.
STANDARD DOOR USES TWO INDIVIDUAL DOGS PLUS LATCH AS ILLUSTRATED.
STANDARD DOOR INCLUDES 9-INCH ROUND LIGHT. OTHER SIZES AVAILABLE. DOOR WITH NO LIGHT AVAILABLE. PLEASE SPECIFY ANY NON-STANDARD LIGHT REQUIREMENTS IN SPECIAL INSTRUCTIONS.
DOOR IS INSULATED.
ALTHOUGH THE COAST GUARD DRAWING STILL CITES A FOAM CORE GASKET, THIS GASKET HAS PROVED TO BE SUSCEPTIBLE TO DAMAGE AND IS THEREFORE A HIGH MAINTENANCE COMPONENT. JUNIPER SUPPLIES THIS DOOR WITH A TEAR RESISTANT SILICONE GASKET.
JUNIPER DOORS
WEATHERTIGHT DOORS
REQUEST FOR QUOTATION
USE THE FORM BELOW OR, FOR A GENERIC RFQ FORM,
CLICK HERE
JUNIPER INDUSTRIES, INC.
72-15 METROPOLITAN AVENUE
POST OFFICE BOX 148
MIDDLE VILLAGE, NY 11379
PHONE (718) 326 2546
FAX (718) 326 3786
EMAIL
Copyright © 2016 Juniper Industries Inc.